Email continues to be an effective means of contacting customers, which is why we cannot afford to stop communicating with them through this medium. But if we also implement automated email marketing strategies, its impact is greatly enhanced. So that you can start taking advantage of it, in this article I will tell you the secrets to achieve success in your email automation campaign.
To begin with, let's define: what is email automation or automated email?

It is a type of campaign focused on sending emails, configured in such a way that once the campaign is triggered, the flow follows its path automatically, as long as the subscribers meet the criteria established in that flow.
For example, imagine that your company launches a new product and you want to communicate it in a promotional campaign. You create an ad and establish as a main criterion that everyone who clicks on it will receive an automated email within 24 hours giving them free shipping on their first purchase, while those who pass by will receive an email alerting them that the offer will last only a few days.
How can we automate these shipments? Very easy, with workflows. They can be simple flows like the example we have just seen, or much more complex and consider other variables related to user behavior, both on the site and in the emails themselves. The variables can be as many as your strategy requires.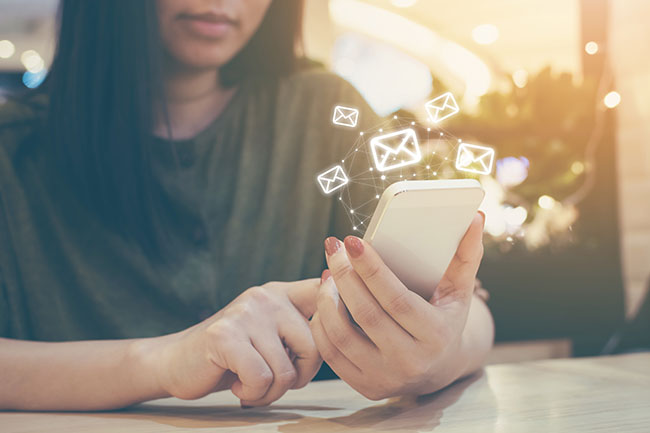 What does a good email marketing strategy require?
A good email marketing strategy offers users the content that is most valuable to them at the most effective time. Among the top reasons why you should implement automated email marketing in your strategy are:
It only requires an initial configuration and does the rest on its own.

Accelerate your conversion funnel, getting leads to move faster and in greater quantity from one stage to another.

Mails always arrive at the right time.

The contents are personalized, according to the behaviors, interests and/or demographics of your databases.

It is a very effective form of segmentation.
What types of email automation can you implement in your strategy?
1. Welcome mail
The name itself explains it all: welcome emails are a great way to connect with your subscribers once they sign up for your content.
A good welcome email should contain the following points:
Show your value proposition and brand personality.
Generate expectations for your subscribers.
Surprise subscribers with a "gift" or special offer.
2. Onboarding actions
When a user creates an account on a website, there are usually several steps they must follow to complete their profile. There are also things they must learn so that they can get the most out of their account. In these cases creating a good onboarding experience allows:
Guide users through the account setup process.
Increase user engagement and retention by educating users about the features of your website and how they can get the most out of their account.
Identify low-interaction users and those who have not properly set up their account.
3. Abandoned purchase
Abandoned carts on e-commerce sites are very common. However, this does not mean it is a lost purchase. Sending a follow-up email to people who did not complete their purchase is a very effective way to recover some conversions.
Abandoned cart emails have twice the average open rate of normal email campaigns.
They improve conversion rate by providing timely information to customers to bring them back.



4. Downloadable content of value
The best way to get information from your potential customers is to offer them content that will benefit them in return. The formula is simple: "if you want to get this ebook, fill out the following form". Offering downloadable content is an effective strategy:
Your content works for you. Because it is downloadable, it becomes a tool for capturing contact information that you can use.
It helps grow your database by attracting people who are genuinely interested in your company.
 5. Contact tracking
Knowing who your most loyal customers are is a great advantage and is possible thanks to marketing automation. An easy way to identify them is through their interactions with your business. The most engaged contacts are an invaluable resource for your business because:
They can help you gather feedback through surveys.

They function as an extension of your marketing team to disseminate information about your business.
6. Healthy databases
Maintaining a clean email list is important to achieve sustainable growth, as well as high engagement with your campaigns. Automation can help you clean your list through a re-opt-in process. Although it sounds counterintuitive, removing contacts from your database brings great benefits such as:
Improve engagement rates with your email campaigns.
Decrease spam complaint and unsubscribe rates.
Obtain a better sender score with email providers.
7. Lead scoring 
A good way to make sure your customers have the right qualities and are interested in the offer is to qualify them with a lead scoring strategy:
It allows you to have better communication with the leads that are most likely to convert.

It can work through automated workflows, which will make your classification work easier.

You can more accurately segment your lists for email marketing campaigns.
8. Lead nurturing
Incorporating automation into your lead nurturing strategy during your sales and marketing process can save you time and help increase your customer base on a large scale.
Keeps customers engaged during their research and buying process.

Provides your leads with the information they need to make their purchases.

Automatically qualifies leads and moves them to the appropriate stage in their buying process.




9. Reactivation in ecommerce
Reactivation emails, as the name suggests, aim to reactivate contacts who have not visited your site, store or ads in a long time.
Sometimes, it is more fruitful to reactivate these customers than to get new ones.
Keep in mind that these examples do not represent an absolute truth, but they are proven effective options that can be adapted to the marketing strategy you and your team establish.
Let's talk about Workflows 
Now that you know what types of email automation you can implement, let's talk about workflows: what are they and how will they help my marketing strategy?
What is a Workflow?
The main objective of inbound marketing campaigns is to increase the visibility, acquisition, conversion and loyalty of potential customers. A workflow can efficiently simplify this process.
Broadly speaking, a workflow is composed of a series of automated actions that you can program according to your contacts' data, or their online habits and behaviors.
How can I make an automated Workflow?
To get started, you need a tool to help you automate your workflow. The inConcert Marketing platform is a great option as it allows you to create all kinds of workflows, from the simplest to the most complicated ramifications. It all depends on your strategy.
This tool is intuitive and very easy to use. Here are some tips to start using workflows in your email marketing strategy:
-Identify your buyer persona
Knowing who you are targeting is paramount to start any kind of strategy and workflows are no exception. Determine who your ideal customer would be and start your workflow by targeting them.
Visualize your workflow
There are tools that can help you visualize a workflow:
– With what criteria can leads enter your flow? 
– What has to happen for them to follow?
– Do you need branches?
All this is easier to program if you already have an overview of what you need beforehand. If you are not too fond of computer programs it is always possible to do it the old-fashioned way, with ink and paper.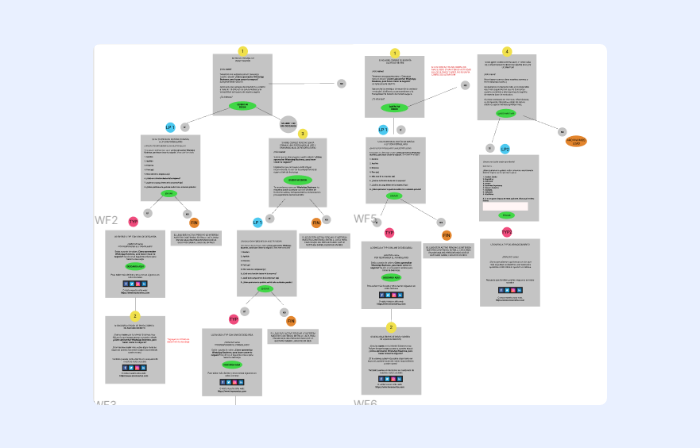 Planning your workflows carefully is key to perfect execution
-Prioritize your contents
The best way to get the most valuable thing that marketing can offer you (data) is to offer your leads something that is useful to them, valuable content. You should think of your flow as a machine that works almost perfectly:
-Which content is more valuable than others?
-Which is more attractive?
-Which works as a hook and which can be offered for free?
-Decides the activation condition
Once your strategy is well defined, the first thing you must determine is what their activation condition will be.
The conditions can be multiple, for example: if the contact belongs to a certain database, if they are in the lead stage, if they converted on a certain landing page, or if their position belongs to a certain level of hierarchy that is essential in your strategy.
A workflow is not a strategy that will be finished in a couple of days, not even in a couple of weeks. Remember that you are looking for a long-term relationship and therefore it is necessary to think carefully about how much time will pass between one sending and another to make your lead feel comfortable with you.
There is a fine line between being nice and being smothering. The last thing we want is for them to decide not to continue receiving our emails.
-Take advantage of each of the steps to convert
Your workflow is not only an automated way to send emails to your leads, it is also a latent opportunity to grow your conversions. Take every opportunity to invite them to move forward in the conversion funnel, placing Call To Actions in your emails, within your valuable content, and even in your forms. This way your opportunities will grow at every step.
Last but not least: test, check and correct if necessary. Among the actions that are most frequently used in a workflow are:
-Time interval
It is used to add a time interval between actions. For example, you can allow several days or even weeks to pass between emails.
-Bifurcation 
This function allows you to define whether certain contacts with certain characteristics should receive a different mailing once they are part of the flow.
-Configuring a contact property
It is used to add a certain property to the contact when it meets certain characteristics, for example, changing the stage of a contact to MQL.
-Add or remove from the list 
Allows you to add and delete contacts. The main added value is that this property helps you to create a more complex contact list.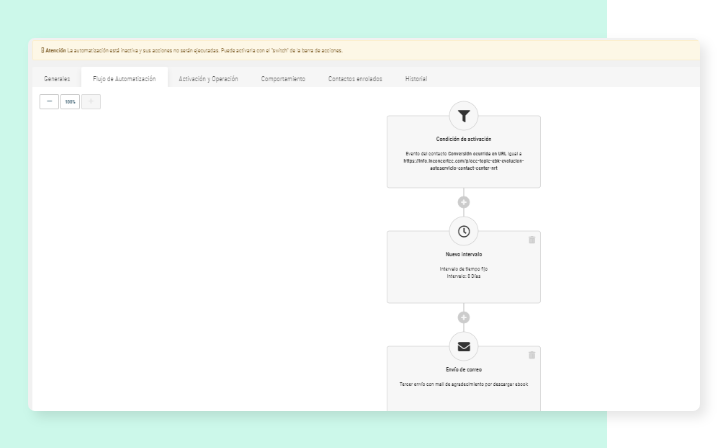 It's that easy to create a workflow in inConcert Marketing.
The best way to know how to do a workflow is to start doing them. Implementing this marketing technique will bring great benefits to your lead nurturing strategy, starting with saving time. So the best thing to do is to practice and practice, and keep track of your own observations about what works best for your leads and customers.