Adoption of  no-code applications is growing globally across all industries. It's estimated that by 2025,  this technology will make up 70% of all new digital applications used by companies (in 2020, it was less than 25%) *. In a rapidly changing landscape that demands flexibility, no-code technology is truly a game changer for companies looking to innovate.
What is no-code?
No-code is software that accelerates application production with pre-existing functionality, providing a high level of customization without needing to create code from scratch.
Why companies love no-code
It helps optimize resources and reduce costs
No-code platforms allow co-workers from different departments, with no programming knowledge, to actively participate in company digitalization strategies, turning them into native developers, capable of building digital solutions without any previous training or experience in coding.
Besides  adding a multidisciplinary approach to digitalization , this kind of distribution directly improves human resource optimization . When digitalization no longer falls entirely on the IT department, these resources can be saved for when needed, helping to resolve the high demand for the skills involved in digital transformation.
By achieving great results with less code, resources are optimized in other departments, too. With no-code  applications we achieve a faster time-to-market , which makes companies more competitive. A/B testing can be introduced and done with less risk, producing short-term results.

Because it empowers project teams
For example, not so long ago, marketers depended on developers for their campaigns, from creating or editing a landing page to configuring automated workflows. For their part, development teams depended on marketing specifications to create truly functional applications. The same applied for other departments like administration and finance, human resources, logistics, etc.
With the advance of no-code,  this interdependence is no longer a hard and fast rule: teams with no programming knowledge can create, modify and customize applications using visual drag-and-drop tools or pre-configured integrations. IT teams can rely on no-code to quickly build the application essentials, and focus their talent on developing more complex features.
How to choose a no-code application platform
What basic elements does a no-code platform need to be useful? According to analysts at Gartner, here are the key capabilities to look for before acquiring a suitable platform: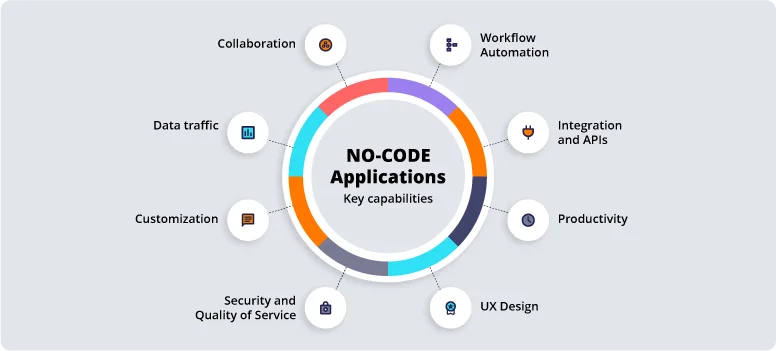 When assessing these metrics, it's important to compare them against the practical challenges of your current systems. Here are some questions you should ask when considering a no-code platform demo or trial:
– Customization: What level of customization does it allow and what are its limitations? Does it help build and maintain modern applications, providing the best user experience (for customers and employees)? Does it allow complex integrations and robust monitoring systems? 
–Data traffic:  Does it support high-volume data traffic and interactions, according to usage needs?
–Workflow automation: What capabilities does it provide for process modeling and business rules? What about process documentation?
–Software Development Life Cycle: How does the platform enable developers to create applications faster? What native programming languages and frameworks does it support?
– UX Design: Does the platform support user journey design, development and testing across devices? Does it deliver rich, seamless experiences across web and mobile interfaces?
–Collaborative environments and productivity: oes it allow professional programmers and native developers, business experts, and cross-functional teams to work collaboratively? Does it offer artificial intelligence capabilities that assist during the app development, testing and monitoring?
–Integrations and APIs: Does the platform support back-end integration with local and cloud services, service repositories, and databases? How does it provide and manage application APIs?
–Security and quality of service: hat security capabilities does it offer for applications developed on the platform? What standards and certifications does it meet?
No-code within strategic planning
In addition to evaluating technological capabilities, no-code applications need to be  analyzed for their suitability with the human resources strategy and the long-term business strategy, taking into account both the company's own objectives and the vision of the product to be acquired. 
At inConcert we specialize in no-code solutions for customer relationships, providing companies with value, autonomy and speed, along with a high degree of customization for contact center tools, bots, analytics, recoveries, helpdesk, CRM and marketing automation.
👉 Learn more about inConcert's solutions 
*Gartner, 2021